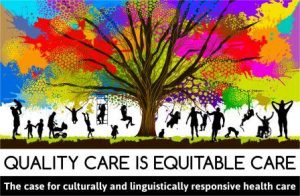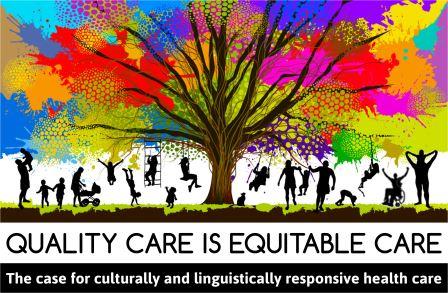 Quality Care is Equitable Care; The case for culturally and linguistically responsive health care.
What is health equity, and why does its attainment matter in a state with predominantly white and rural residents and practitioners? How does discrimination (even unintentional) in American health care affect health inequities and health disparities experienced by minority and other underserved populations? This series will present:
Why quality healthcare must be equitable care;

How ignoring racial and ethnic health disparities is costly; and

How culturally and linguistically responsive practices are a necessary component to achieve a more equitable health care system.
In this 5-part professional development series, we will candidly address these and related questions and offer interventions and strategies that reduce the impacts of discrimination and biased care.
Session 1: Unmasking Health Disparities through a Health Equity Lens (December 16, 2020)
We explore the meaning of health equity as the primary lens for assuring quality care for all. Evidence of differences in health and health care experiences by race and ethnicity in rural areas will be presented, as well as demographic megatrends that influence the practice of medicine and patient care in a globally mobile world.
Session 2: The Case for Providing Cross-Cultural and Linguistically Appropriate Care in Vermont (January 2021)
David B. Hunt, J.D., President, and CEO of Critical Measures, will present the business, medical (quality and safety), and legal "cases" for health equity in patient care. With a special focus on racial and ethnic disparities rooted in provider-biased communication and decision-making, this session will address language access as a quality, legal and civil rights issue along with emerging clinical best practices. The workshop will conclude with implications of changing demographics for health workforce recruitment, hiring and retention, productivity and teamwork, workforce incivility, and employment law liability.
Session 3: Unconscious Bias in American Health Care (February 2021)
With a focus on the research of how unconscious bias negatively affects care quality and contributes to health disparities, this interactive session will address implicit bias held by physicians, institutional providers, and even patients. Evidence-based mechanisms to address implicit biases will be offered.
Session 4: Cross-Cultural Healthcare – Best Practices in Clinical Encounters (March 2021)
This session will introduce widely adopted best practices to improve physician and other provider skills before, during, and after the clinical encounter, including communication and assessment tools to help ensure equitable treatment and performance improvement practices.
Session 5: Culturally-Effective Organizations (May 2021)
This session will provide a framework with tools for healthcare leaders, managers, and others on the inputs and outputs for developing a culturally effective organization—one that cultivates and supports the delivery of high-quality services for all.
Spread the word! Find our social media kit HERE!
The planning committee for this continuing education series:
Gail Auclair, MSM-HCA, R.N., CEO, Little Rivers Health Care Inc., Bradford, VT
Betsy Fowler, LCSW, Ph.D., Director of Behavioral Health, Northern Counties Health Care Inc., St. Johnsbury, VT
Mckalyn LeClerc, MD, Family Physician, Northern Counties Health Care Inc., Hardwick, VT
Emily Ruth LeVan, DNP, APRN, NP-C, Copley Hospital, Morrisville, VT
Laura Newell, MSHCA, V.P. of Medical Practices, Northeastern Vermont Regional Hospital, St. Johnsbury, VT
Julie Parker, LCMHC, Assistant Director, Vermont Blueprint for Health, Department of Vermont Health Access
Kate Simmons, MBA, MPH, Director of Operations, Bi-State Primary Care Association, VT & NH