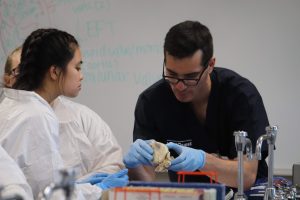 Northern Vermont AHEC provides opportunities for college students and health professions trainees to mentor younger students interested in health care and health science in a variety of settings.   
A mentor's role is to:
Support students in their classroom, community, and residential experiences;
Connect with students virtually using online platforms to support
academic and career goals;
Assist in instructing students in health science and career exploration content;
Share knowledge and experience as a health professions trainee;
Be a role model for Vermont students.
All mentoring programs include program orientation & training, coaching, supplemental materials to aid instruction, and continuing enrichment opportunities for mentors.
During the summer, Northern Vermont AHEC provides intensive academic enrichment and career exploration programs.  There are opportunities to mentor at week-long residential programs, and day programs.  These are paid work and learning opportunities open to post-secondary health professions students in fields including nursing, medicine, social work, psychology, neuroscience, pharmacy, physical therapy, and mental health counseling.  
During the academic year, there are opportunities for mentors to work with middle and high school students after school.  After school mentoring opportunities are specific in number of sessions and duration, to allow mentors to plan around their academic and work schedules.  These opportunities include a stipend and are available to students enrolled in a health-related program of study at any level.
To find out more information about mentoring opportunities, please contact us at
HealthCareers@nvtahec.org
Read more about mentorship in our Mentor Handbook HERE.
Watch our Mentor Training Video HERE